Dissecting the immune mechanisms of therapy
An important pursuit in the lab is to understand the immune mechanisms of immunomodulatory therapy.  The goal of these studies is to understand the immune signature of successful therapy to help reveal better therapeutic strategies for the future.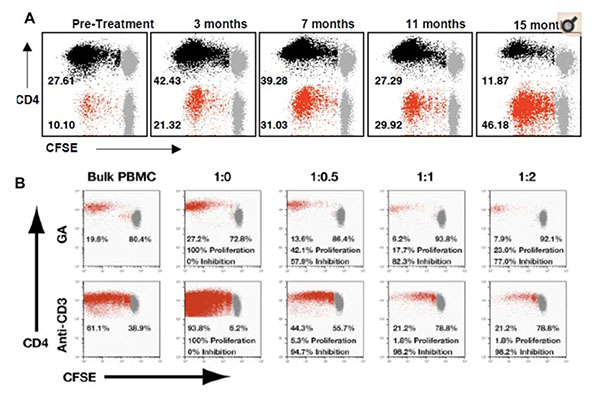 Glatiramer acetate (Copaxone®), a synthetic copolymer of four amino acids (alanine, glutamic acid, lysine, and tyrosine), is an approved immunomodulatory therapy for patients with relapsing-remitting MS. Copaxone is known to prime T-cell responses in treated patients. However, the nature of these responses, their role in immunomodulating the disease and the mechanisms by which Copaxone exerts its effects are presently unclear. Recent studies from our laboratory provide the first direct evidence of a potent CD8+ T cell response in human subjects. Copaxone-reactive CD8+ T cell responses are deficient in untreated MS patients, compared to healthy individuals. Following Copaxone therapy, these responses are upregulated and restored to levels found in healthy subjects. These cells appear to mediate their immunomodulatory effects by direct cytotoxic killing of activated CD4+ T-cells. Based on these observations, we hypothesize that Copaxone-induced CD8+ T cell responses play an important role in the immunomodulatory effect of the drug and are now building on our studies to delineate their mechanism in both human MS and its animal model.
---
Learn More:
Glatiramer acetate (Copaxone) therapy induces CD8(+) T cell responses in patients with multiple sclerosis.
 Karandikar NJ, Crawford MP, Yan X, Ratts RB, Brenchley JM, Ambrozak DR, Lovett-Racke AE, Frohman EM, Stastny P, Douek DC, Koup RA, Racke MK. J Clin Invest. 2002 Mar;109(5):641-9. PMID: 11877472
Therapeutic induction of regulatory, cytotoxic CD8+ T cells in multiple sclerosis.  Tennakoon DK, Mehta RS, Ortega SB, Bhoj V, Racke MK, Karandikar NJ.  J Immunol. 2006 Jun 1;176(11):7119-29.  PMID: 16709875
Glatiramer acetate (GA) therapy induces a focused, oligoclonal CD8+ T-cell repertoire in multiple sclerosis. Biegler BW, Yan SX, Ortega SB, Tennakoon DK, Racke MK, Karandikar NJ. J Neuroimmunol. 2006 Nov;180(1-2):159-71. Epub 2006 Aug 28. PMID:16935352
The mechanism of action of glatiramer acetate treatment in multiple sclerosis. Racke MK, Lovett-Racke AE, Karandikar NJ. Neurology. 2010 Jan 5;74 Suppl 1:S25-30. doi: 10.1212/WNL.0b013e3181c97e39. Review. PMID:20038760
Modulation of immune function occurs within hours of therapy initiation for multiple sclerosis. Ayers CL, Mendoza JP, Sinha S, Cunnusamy K, Greenberg BM, Frohman EM, Karandikar NJ. Clin Immunol. 2013 May;147(2):105-19. doi: 10.1016/j.clim.2013.02.015. Epub 2013 Mar 6. PMID:23578552
CD8(+) T Cells Are Required For Glatiramer Acetate Therapy in Autoimmune Demyelinating Disease. Tyler AF, Mendoza JP, Firan M, Karandikar NJ. PLoS One. 2013 Jun 21;8(6):e66772. doi: 10.1371/journal.pone.0066772. Print 2013. PMID: 23805274