Role of CNS-specific "autoregulatory" CD8 T-cells in autoimmune demyelinating disease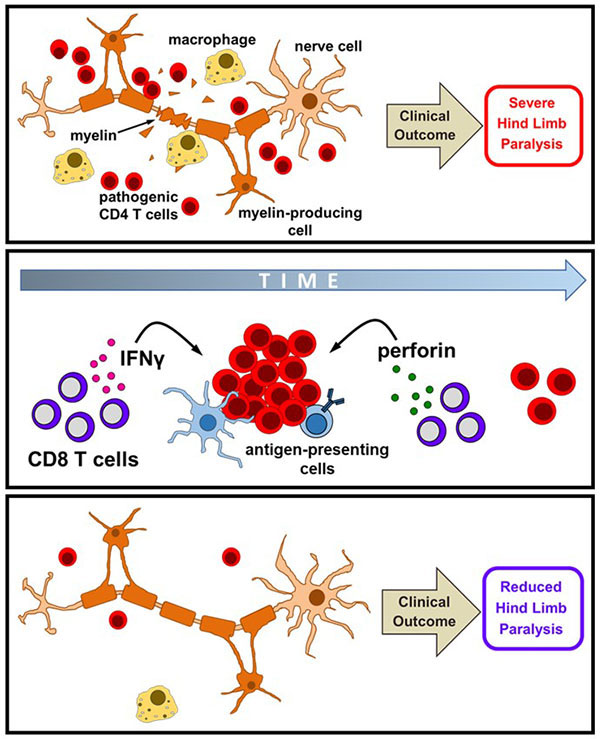 Multiple sclerosis (MS) is an inflammatory, demyelinating disorder of the central nervous system (CNS) and is responsible for long-term morbidity in over 350,000 people in the United States. Although the precise etiology of MS is unknown, it is thought to be a T-cell-mediated process due to characteristic histologic features and the presence of neuroantigen-specific immune responses in the blood and cerebrospinal fluid.
Experimental auotimmune encephalomyelitis (EAE) is a well established animal model for multiple sclerosis that can be induced in mice by immunization with myelin antigens or by the adoptive transfer of T cells specific for myelin antigens. A great deal of our understanding about the immunologic processes that underlie MS is derived from studies in EAE. The vast majority of studies trying to understand the immune basis of MS and EAE have focused on evaluating and targeting CD4+ T cell responses. Although both diseases are thought to be mediated and regulated by CD4+ T cells, several reports from others and us present strong evidence for a role of CD8+ T cells.
The role of CD8 T cells in the process of autoimmune pathology has been both understudied and controversial. While it is known that CD8 T cells represent the predominant T cell in an MS lesion and are oligoclonally expanded at the site of pathology, the antigenic specificity of these cells and their role is not known. While there are several reports describing immune regulatory populations of CD8 T cells in autoimmune disease settings, the role of CNS-specific CD8 T cells is still poorly understood. It makes intuitive sense that a CNS-targeted, CD8 T cell response would likely have a pathogenic role in disease. Some studies also suggest a potential pathogenic role for CNS-specific CD8 T cells in EAE (particularly those that use transgenic model systems).
Our studies have addressed the role of CNS-specific CD8 T cells directly in the context of human MS and in classical models of EAE in B6 and SJL mice. We have generated the first evidence for a novel and unexpected regulatory role for neuroantigen-specific CD8 T cells in these diseases.
We thus hypothesize that different subsets of CNS-specific autoreactive CD8+ T cells play an important role in the intrinsic immune modulation of MS. Our goals are to evaluate the role of CNS-specific CD8+ T cells by delineating their phenotypic and functional features, their fine specificity and their activation requirements. We believe that understanding the biology of this critical aspect of the underlying immune response will provide important insights that can be utilized for therapeutic benefit in MS and other autoimmune diseases.
---
Learn More:
High prevalence of autoreactive, neuroantigen-specific CD8+ T cells in multiple sclerosis revealed by novel flow cytometric assay. Crawford MP, Yan SX, Ortega SB, Mehta RS, Hewitt RE, Price DA, Stastny P, Douek DC, Koup RA, Racke MK, Karandikar NJ. Blood. 2004 Jun 1;103(11):4222-31. Epub 2004 Feb 19. PMID: 14976054
Immune regulatory CNS-reactive CD8+T cells in experimental autoimmune encephalomyelitis. York NR, Mendoza JP, Ortega SB, Benagh A, Tyler AF, Firan M, Karandikar NJ. J Autoimmun. 2010 Aug;35(1):33-44. doi: 10.1016/j.jaut.2010.01.003. Epub 2010 Feb 20. PMID: 20172692
The disease-ameliorating function of autoregulatory CD8 T cells is mediated by targeting of encephalitogenic CD4 T cells in experimental autoimmune encephalomyelitis. Ortega SB, Kashi VP, Tyler AF, Cunnusamy K, Mendoza JP, Karandikar NJ. J Immunol. 2013 Jul 1;191(1):117-26. doi: 10.4049/jimmunol.1300452. Epub 2013 Jun 3. PMID:23733879
Neuroantigen-specific autoregulatory CD8+ T cells inhibit autoimmune demyelination through modulation of dendritic cell function. Kashi VP, Ortega SB, Karandikar NJ. PLoS One. 2014 Aug 21;9(8):e105763. doi: 10.1371/journal.pone.0105763. eCollection 2014. PMID:25144738
Autoregulatory CD8 T cells depend on cognate antigen recognition and CD4/CD8 myelin determinants. Ortega SB, Kashi VP, Cunnusamy K, Franco J, Karandikar NJ. Neurol Neuroimmunol Neuroinflamm. 2015 Nov 4;2(6):e170. doi: 10.1212/NXI.0000000000000170. eCollection 2015 Dec. PMID:26587555
CD8(+) T-Cells as Immune Regulators of Multiple Sclerosis. Sinha S, Boyden AW, Itani FR, Crawford MP, Karandikar NJ. Front Immunol. 2015 Dec 10;6:619. doi: 10.3389/fimmu.2015.00619. eCollection 2015. Review. PMID:26697014
Suppression of autoimmune demyelinating disease by preferential stimulation of CNS-specific CD8 T cells using Listeria-encoded neuroantigen. Itani FR, Sinha S, Brate AA, Pewe LL, Gibson-Corley KN, Harty JT, Karandikar NJ. Sci Rep. 2017 May 8;7(1):1519. doi: 10.1038/s41598-017-01771-8. PMID:28484224
Early IFNγ-Mediated and Late Perforin-Mediated Suppression of Pathogenic CD4 T Cell Responses Are Both Required for Inhibition of Demyelinating Disease by CNS-Specific Autoregulatory CD8 T Cells. Boyden AW, Brate AA, Karandikar NJ. Front. Immunol., 09 October 2018.